The island of Antiparos lies just southwest of Paros and is well-revered for its charming main town with typical white-washed Cycladic houses and quaint, cobbled pedestrian streets, unspoiled countryside and numerous beautiful beaches.
The small Cycladic island (35 sq. km) makes up for its diminutive size with its breathtaking natural beauty, peaceful countryside and its thriving main town (Chora). In summer, the winding cobbled footpaths of the Chora bustle with activity and are adorned with plentiful boutiques, shops, cafes, fine restaurants and even abundant nightlife – yet still easy walking distance to nearby golden sandy beaches and crystal clear waters on both sides of town.
Those who explore further afield will be greeted by the stunning scenic beauty of this charming Greek island, dotted with windmills, small white and blue chapels and numerous areas for hiking and exploring nature, as well as several archeological sites. Up in the hills of Antiparos is the famous Antiparos Cave, which has for centuries been popular with nature-loving tourists who wish to view the stalagmites and stalactite and even view graffiti carved into the walls by famous visitors including King Otto of Greece and Lord Byron.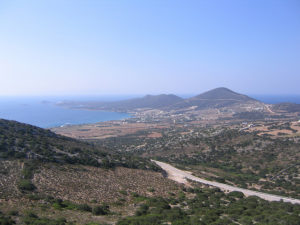 Additionally there are abundant opportunities for local boat trips to secluded beaches or more active watersports, including snorkeling, diving, windsurfing, kiteboarding or sea kayaking. Due to its small local population of just over 1,000 inhabitants, the island is gloriously pristine and it's always easy to find both vibrant, busy beaches as well as peaceful, quite swimming coves.
For those that want a classic, quintessential Greek island holiday, Antiparos offers the best of both worlds: a thriving main town with upscale shopping and dining and nightlife and undisturbed, peaceful countryside – all easily reached by regular ferry service from the main town of Paros, Parikia in just 30 minutes or from Pounda in just 5 minutes.